What Makes Our Meats So Unique?
Not all meats are created equal – and this is especially true when it comes to Texas BBQ. At Smokey Mo's, we strive to serve up smoked meats that stand out from the rest through their distinctive flavor, rich juiciness, and in-house smoked goodness.
Variety Is the Spice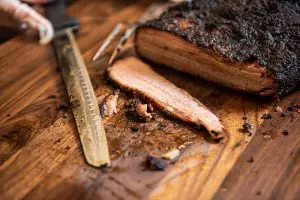 Many BBQ restaurants specialize in just one type of meat. At Smokey Mo's, our mouth-watering dishes span the meat gamut – from brisket to chicken, pork ribs to sausage, chopped beef to turkey. Our vast selection has earned us the distinction, "the BBQ restaurant with something for everyone."
Below are just a few examples of what sets our meats apart from the rest:
 Brisket: Our delicious meat is smoked for 10-12 hours and is packed with flavor. Following Texas tradition, we smoke our meats with post oak wood for melt-in-your-mouth smoky deliciousness.
Pork Ribs: We serve up two types of pork ribs: baby back ribs and St. Louis spare ribs. Each type has its own unique flavor. When cooked properly, the fat and cartilage around and between the ribs breaks down and softens, making the ribs incredibly succulent.
Chicken: Our chicken is always smoked "slow and low" to keep in the moisture while cooking to the tender perfection our guests know and love.
Smokin' and Stokin'
Day after day, our pitmasters turn out delicious smoked meats, seeing their creations as an art form. They wake up early and head to Smokey Mo's to start up the pits and begin the smoking process. But it doesn't end there. Our pitmasters keep a watchful eye throughout the day, smoking each selection to perfection for just the right amount of time. Some meats – such as our world-class beef brisket, which takes as much as 12 hours to perfect – we smoke overnight so that we have hot-off-the-pit BBQ ready for the next day.
Building Blocks for a Healthy Body
Meat is good for us! It's rich in protein, with all the essential amino acids our bodies need to build muscles, strengthen bones, and boost the immune system. How much protein do we need each day? The National Academy of Medicine offers this benchmark: about 7 grams for every 20 pounds of body weight. That's about 50 grams of protein a day for a 140-pound person and 70 grams daily for a 200-pound person. A generous helping of meat – brisket, for instance, at 60 grams of protein per serving – can alone satisfy the daily requirement.
Get Your Protein Fix at Smokey Mo's
What better way to get the protein you need than with some delicious Texas BBQ?
Stop by one of our 16 restaurants throughout central Texas and try one of our smoked, tasty barbecue options. Selections include scrumptious smoked brisket, tender turkey breast, juicy pork loin, savory sausage (regular and jalapeno), over-the-top "chop" – flavorful chopped beef, pork, and much more!
Get your favorite kinds of smoked meat at Smokey Mo's BBQ. We'll be looking for you!