Meaty Sandwiches: Something for Everyone at Smokey Mo's
BBQ sandwiches are a popular lunch or dinnertime option offering your favorite barbecued meats in a convenient, easy-to-eat way. From our brisket sandwich to our BBQ plates, we've always strived to offer a menu that has something for everyone. At Smokey Mo's, we know barbecue – and our variety of sandwiches, only kick it up a notch.
Savory Sandwiches for Every Taste Bud:
1. Brisket Sandwich: This sandwich features our "king of the barbequed meats." Smoked in-house for 10-12 hours using rotisserie smokers for melt-in-your-mouth deliciousness, and perfectly seasoned with our signature blend of spices. Hugged between two buns and served with pickles and onions on the side – the brisket sandwich is a fan favorite!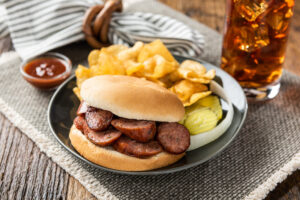 2. Sausage Sandwich: Our sausage makes for another popular sandwich option at Smokey Mo's! Made using a proprietary blend of spices, this meat offers both regular sausage (mild spice level) and jalapeno sausage (extra spice) for an optional kick!
3. Turkey Sandwich: Our turkey sandwich features all-white-meat turkey breast, which is one of our more popular meats and is a favorite of the health conscientious. Smoked in-house in our rotisserie-style BBQ pits and seasoned using our secret sauce, turkey sandwiches are no longer just for the holiday leftovers.
4. Chopped Sandwich: Our signature chop is the highlight of the Chopped Baker but goes nicely between buns as well. A perfectly seasoned blend of chop and marinated with the perfect amount of Smokey Mo's Regular BBQ Sauce – it's an entrée that can do no wrong.
5. Pork Loin Sandwich: Our center-cut pork loin is a great pork option. Seasoned with our dry spice rub and smoked in our BBQ pit for tender, moist goodness – our pork loin sandwich is always a tasty choice.
Make it a combo! Pair your choice of sandwich with one of our hearty sides and a drink for the perfect meal! A few of our most popular sides include potato salad, mac & cheese, and buttered potatoes.
Stop by one of Smokey Mo's 16 central Texas restaurants for lunch or dinner! Try pairing together a few sandwich and side options to make your own signature sandwich combination! Finish off with one of our delicious desserts, for a scrumptious and satisfying meal. Dine-in, carry out, or order delivery from Door Dash or Uber Eats.
We'll see you soon at Smokey Mo's!