How to Grill a Perfect Rack of Pork Ribs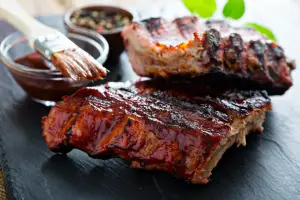 Summer is prime time for serving up meat on the grill! Pork ribs are always a special treat – savory, sizzling, and scrumptious, when cooked correctly.
For starters, you'll need a sturdy charcoal or gas grill, a set of long utensils for grilling, a meat thermometer, and a shallow baking dish – along with the meat, marinade, spice rub, and BBQ sauce.
Here are eight steps for cooking melt-in-your-mouth ribs on your home grill:
Choose your ribs. The two most popular types of pork ribs are baby back ribs and St. Louis-style spare ribs. Baby back ribs are small, meaty, and lean; Louis-style ribs are flatter, rectangular, and have more fat. Either choice is delicious; just remember that baby back ribs are more expensive and will take less time to grill.
Remove the membrane. When grilling pork ribs it's important to remove the skin-like membrane located on the bottom, or "bone side," of the ribs. If the membrane isn't removed, it can become tough when you're grilling. Insert a knife between the membrane and the meat at one end of the ribs. Work your fingers under the skin to loosen it, and then pull it off.
Marinade. To add flavor that will seep deeply into the meat, soak the ribs in a marinade overnight. You can buy your favorite from a grocery store or create your own using ¾ cup chicken broth, ¾ cup soy sauce, ½ cup sugar; 6 tablespoons of cider vinegar, 6 tablespoons of olive oil, and 3 minced garlic cloves. Place the ribs in a shallow baking dish. Pour two-thirds of the marinade over the meat, coat both sides, and refrigerate overnight. Store the rest of the marinade in the refrigerator for use on the grill.
Spice it up. Take the ribs out of the fridge and discard the marinade from the pan. To add flavor to the surface of the meat, use a heaping tablespoon of Smokey Mo's BBQ Spice Rub on each side. This tangy blend of spices is sure to give your ribs an extra kick. Pat the spices on the ribs so that they stick to the meat. As you grill, the spices will create a crackly, tasty exterior — in contrast to the moist, tender meat inside.
Grill. For ultimate softness, both baby back ribs and St. Louis-style spare ribs require low, slow cooking time. Cook them on medium over indirect heat for 1½ to 2 hours for baby back ribs and 2 to 2½ hours for St. Louis-style spare ribs, until the internal temperature reaches 190°F. Turn the meat occasionally and baste with the reserved marinade.
Test for doneness. You'll know when the ribs are done when the meat starts to pull away from the ends of the bones. Or, use a toothpick to test. If you can poke a toothpick through the meat between the bones with little resistance, your ribs are ready to serve.
Add the sauce. Crown your creation with Smokey Mo's signature BBQ sauce. Sweeten it by adding ¼ cup of agave or honey –or, for some extra tang, add apple cider vinegar or lemon. Save the sauce as a last step.  If you put it on too early, it could burn. Brush the sauce onto the ribs in the last 10 to 30 minutes. Or wait until you've taken the ribs off the grill before adding sauce.
Dig in! Let the ribs sit for 10–15 minutes, and then carefully cut them into two-bone sections. Serve the meat with complementary sides, such as corn on the cob, potato salad, coleslaw, and pinto beans. Down with plenty of cool lemonade. And don't forget the napkins for your hungry, appreciate crowd!
Bon appétit! 
Take a Break From the Backyard Grill
Vary your home grilling routine with a trip to Smokey Mo's where our meats are smoked in-house daily at all 16 central Texas restaurants throughout Texas. Round off your feast with delicious sides, like crisp coleslaw, buttered potatoes, and house-made pinto beans. Top it off with a scrumptious home-made dessert. Order in, carry out, or call or click in a delivery from Door Dash or Uber Eats.