Smokey Mo's Delicious Whole Smoked Turkey for Thanksgiving
Summary
Choose a Smokey Mo's Whole Smoked Turkey for Thanksgiving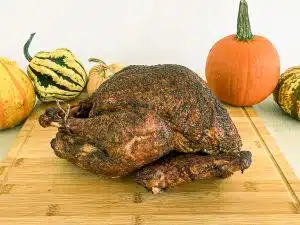 Smokey Mo's BBQ Whole Smoked Turkey for Thanksgiving, Order Now!
Smoked Turkeys will be available for Thanksgiving Pre-Order on October 9. Mark your calendar!
Smoked for You:
Smokey Mo's Whole Smoked Turkeys are available for pre-order for pick up the week of Thanksgiving at all Smokey Mo's BBQ locations. Smokey Mo's Whole Thanksgiving turkeys are freshly smoked just for your order and are packed in house to be ready for your pick up time.
Smoked Low & Slow:
Smokey Mo's BBQ Whole Smoked Turkeys are smoked over low & slow post oak smoke in our in-house pits, ensuring a tender & juicy Thanksgiving turkey,
Seasoned to Perfection:
Whole turkeys are rubbed with our unique spice blend, ensuring flavor throughout. Delicious at Thanksgiving dinner and after – Smokey Mo's Smoked Whole Turkey makes delicious leftovers after the big day.
Simplify Thanksgiving:
Pick up a fully cooked smoked whole turkey at the location & time from Nov. 20- 22rd, and just pop it into the oven to gently reheat for your Thanksgiving supper.
Smokey Mo's TX BBQ is grateful to have been part of thousands of Thanksgivings since our founding in 2000 and we look forward to having a spot at your table!