Classic Comfort Foods and Activity Ideas for a Cozy Night In
Now that the weather is cool, and we've officially traded our swimsuits for sweaters, you may find yourself wanting more and more cozy nights in. And what's a night in without some classic comfort foods and holiday fun?!
Here are 4 activities to keep the fun going through the winter season:
Snuggle up with a holiday movie night. A classic activity that's always a great time, setting up a movie night with your family or roommates (or just watching one by yourself) is the perfect way to get into the holiday spirit while staying cozy. Here's a list of the top holiday movies to get you started!
Take a virtual tour through some spectacular holiday light displays. Going on holiday light tours is a tradition for many families. If you don't feel comfortable going out and about, you can still feel all of the festive vibes from the comfort of your own home. Christmas Designers will take you on a virtual tour through 21 displays of dazzling lights starting right here in Texas. There are also some creative drive-thru light displays in the Austin and San Antonio area that you can enjoy while practicing social distancing.
Get crafty with Pinterest. Pinterest is a one-stop-shop for all things crafty. Whether you'd like to try your hand at making a seasonal candle or perhaps a beautiful do-it-yourself wreath, you can find fun ideas for the whole family. We've put together a board to share some of our favorite crafts for the winter season.
Get festive with a hot cocoa bar. It's the perfect time of the year to cozy up with a warm drink and a hot cocoa bar is a perfect way to turn this tasty treat into a super-special activity. Stock up on all your favorite toppings: marshmallows, sprinkles, whipped cream, chocolate shavings, mini chocolate chips, or whatever else your mind can dream up and pair it with a winter movie for an all-around good time.
And, of course, everything is better with some warm, delicious comfort food. Whether you're planning a small group get together or looking forward to some solo downtime, Smokey Mo's has got you covered!
Classic Comfort Foods and Combos
Here are our favorite Family Pack comfort combos, perfect for a night in with friends and family:
Classic Comfort

Meat: Brisket
Sides: Potato salad, green beans, & creamed corn

Ultimate Comfort

Meat: Pork ribs
Sides: Mac & cheese, buttered potatoes, & coleslaw
Flying solo? These comfort meals are ones you won't want to share:
Brisket Bar-B-Que Plate
Sausage Sandwich
Turkey Wrap
Bring on the BBQ
Our customizable packs are the perfect option for a family meal making it easy for everyone to get their favorites!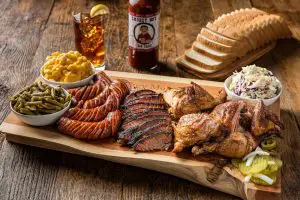 Our smaller Family Pack feeds 3-4 people with 1-1.5 lbs. of meat, 3-pint sides, bread, pickles, onions, and sauce.
The larger Family Pack kicks it up a notch feeding 6-8 people with 3lbs. of meat, 3-quart sides, bread, pickles, onions, and sauce. Meat options include: Brisket, Sausage, Turkey, Pork loin, Chicken, and more. Our tasty sides include: Mac and Cheese, Pinto Beans, Potato Salad, Coleslaw, and more!
Too many tasty options to choose from? Try a Smokey Mo's Fan Favorite! 3/4 lb. Brisket, 3/4 lb. Sausage, 1 Pint of Coleslaw, 1 Pint of Potato Salad, and 1 Pint of Pinto Beans. (Bread, Pickles, Onions, and Sauce included.)
With 16 locations throughout Central Texas, tasty barbecue isn't far away. So put on your favorite comfy clothes, set a fire in the fireplace, or turn on a heater, and prepare to dig into the ultimate BBQ comfort foods with Smokey Mo's.